We really appreciate your interest in Zoe products! If you have a question about Zoe or any of our products, we urge you to browse our knowledge base to find an immediate answer for your inquiry. If you are unable to find the answer in our knowledge base, we would be happy to answer any of your questions via email. You can reach us at info@zoestrollers.com to ensure the fastest response possible.
How do I register my product after I've received it?
After you receive your purchase, it's very important that you register your product(s) by using the included pre-paid registration card or our online registration form. If you choose to register your product online, you will need a few basic pieces of information about your product which are detailed on your registration card and also on the small white tag/label attached to your Zoe product.
Click here for a direct link to our online product registration form.
Can I add Zoe products to my baby registry?
Yes! We love Babylist which lets you add products from any website to your baby registry.
Can I purchase Zoe products as gifts?
Yes! Either just use your gift recipient's shipping information at checkout, or check out our e-Gift Cards, available in multiple denominations to fit your budget and your recipient's needs.
Do you have an affiliate or influencer program?
Yes! Interested in joining the Zoe affiliate family? Please fill out this brief form, and we'll get back to you soon with next steps!
---
How much does shipping cost?
Ground Shipping costs are flat fee based on your order total:
up to $25, $4.99;
$26–$75, $9.99;
$75–$125, $14.99;
$125-$275, $19.99;
$275 and up, $24.99
We currently ship to all 50 U.S states. We currently do NOT offer International Shipping. If you have someone here in the US or a freight forwarding company that could receive the package on your behalf we'd be more than happy to ship to their domestic address.
Shipping to Alaska & Hawaii: Orders being shipped to Alaska or Hawaii must choose the "HAWAII" option at checkout. This is a flat rate fee of $75. Note that Fed-ex doesn't offer overnight or 2-day shipping on strollers to AK or HI. For additional details about shipping to Hawaii and Alaska, please see Fedex.com.
Shipping to Puerto Rico & Guam: Orders being shipped to Puerto Rico & Guam must choose the "PUERTO RICO" shipping option at checkout. This is a flat rate fee of $75. Note that Fed-ex doesn't offer overnight or 2-day shipping on strollers to PR or GU. For additional details about shipping to Puerto Rico or Guam, please see Fedex.com.
How long does Ground Shipping usually take?
The below transit map shows approximately how many business days it will take for your shipment to arrive if you choose the Ground Shipping option during checkout. Please note that FedEx Home Delivery does not consider Saturday or Sunday as "transit or delivery days". Saturday delivery is not an option with our shipping methods. FedEx reserves Saturday deliveries for Priority Overnight shipments which we do not offer.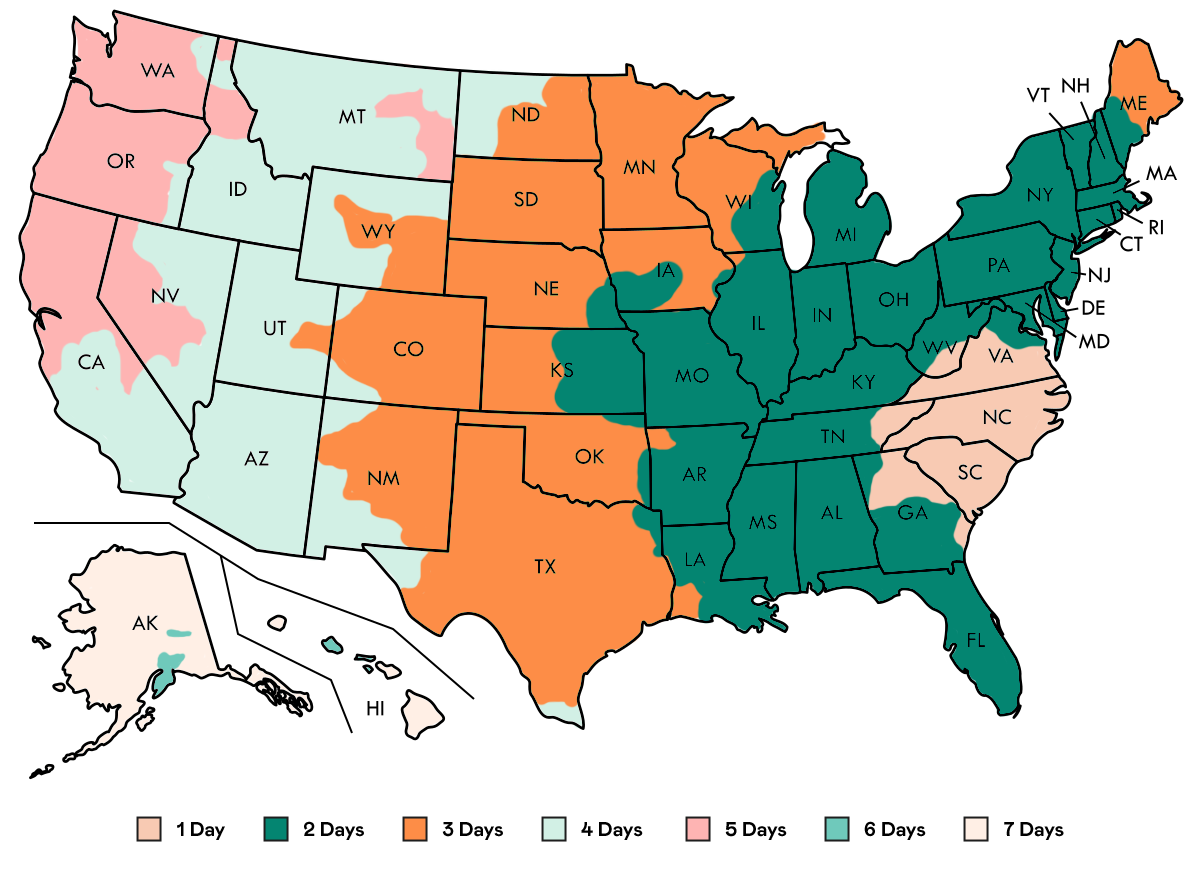 How long does Expedited and Overnight Shipping usually take?
If you need to receive your shipment by a guaranteed date, please choose an expedited shipping method during checkout. That is the only way Fedex can guarantee the arrival date. Specifically, our EXPRESS shipping guarantees 3 transit (business) days or less, and OVERNIGHT Shipping guarantees 1 transit (business) day. All time frames expressed are from the time the package is shipped, not the time the order is placed. If you want to change your shipping method after checking out, please reach out to customer service at info@zoestrollers.com immediately so they can cancel your order.
When can I expect my order to ship?
Zoe Baby uses FedEx and USPS as our primary shipping methods for all strollers, travel cribs, high chairs, and Munchkin sets. Accessories usually ship separately as they are fulfilled from a different warehouse but all items ship from our base of operations in NC and SC. Orders received and authorized before 12PM EST (M-F) generally ship within 1-2 business days, depending on order volume. Our warehouse team spends time with their families on weekends and national holidays. Orders placed on those days will be shipped within 2-3 business days the following week.
What do I do if my package has been lost or damaged in the mail?
We promise to find solutions to any damage that arises as a result of shipping, including part replacement and any shipping charges resulting from returns and exchanges of damaged items. You have up to 30 days to alert customer service of a lost, stolen, or missing item. We will assist customers with filing a Federal Express claim in the event of loss, theft, or denial signature. However, we are not responsible for any lost or stolen merchandise. It is the responsibility of the purchaser to contact Federal Express about any loss or delivery disputes.
Can I change my shipping method after my order has been placed?
If you would like to inquire about changing the shipping method on your order, please contact us here to submit your request.
---
What is your trial and return policy?
We are confident that you will love your Zoe products, but your happiness is most important to us, so we will do our best to take care of you. We offer a 30 day trial period so you can try out our products in the convenience and comfort of your own home. Most Zoe products* can be returned or exchanged within 30 days of purchase for a full refund or credit of the purchase price. They must be in brand new condition, unused, unscratched, without wheel tread scuff marks, and with original tags and packaging, so we recommend only test-driving our products indoors, and doing so with the utmost of care.
*Trio+ strollers, Trio+ add on seats, Tribe+ strollers and Tribe+ add on seats are not returnable if they have been used. A 50% restocking fee will be applied to these items if they are not in brand new, unused condition and show signs of having been used outside. Refunds will only be credited to the original form of payment. If you choose to return a gift, please note the refund will be issued as store credit only. It may take up to 14 business days for a return to be processed and a refund or store credit to be issued. Ground, Express and Overnight shipping charges will not be refunded.
All refunds and exchanges are subject to the approval of our returns team. For all returns, we will provide a prepaid shipping label. Please note: If you ship a stroller back to us as a return, you assume the risk of shipping the stroller. If it is lost in transit, stolen, or damaged upon arrival, we aren't responsible for replacing the stroller, and will only award refunds based on the condition of the stroller that we receive.
How do I return or exchange my purchase?
Returns and Exchanges are super easy at ZOE! Click Here and follow the instructions on our Returns & Exchanges Authorization Form.
What is your return policy for items ordered from your Amazon store?
You can return your purchase within 30 Days of the purchase date using your self-paid carrier of choice or Amazon's discounted self-paid label as long as the item has only been tested within your home with no food or drink and you have all of the original packing materials, box, and parts! It just can't be used outside or show any signs of use.
If you decide your Zoe stroller is not right for you and your item is brand new, unused, and in the original packaging, you can use the self-paid shipping carrier of choice or use the discounted flat-rate return label from Amazon to return your purchase to our return address:  
Zoe Strollers -- Attn: Returns
1111 Hawthorne Lane
Charlotte, NC 28205
PLEASE INCLUDE A NOTE INSIDE THE BOX WITH YOUR RETURN STATING THE REASON YOU ARE RETURNING THE ITEM AND PLEASE STATE ANY PARTS THAT ARE DEFECTIVE.
You must use the original shipping box the stroller arrived in to ship your item back to us. Once your return arrives at our facility, it will be inspected within 5 business days. If it is brand new, unused, and in the original packaging a full refund will be issued to the original payment method used via Amazon.  
If your item has been used outside of your home or has food or drink spills or stains and is not in the original packaging, a restocking fee of up to 50% may apply.   Also, a restocking fee will apply to all orders that are shipped back to us in a 3rd party box other than the original box in which your stroller arrived In this case we will notify you of the restocking fee amount. This is our Amazon return policy, which is different than our website return policy.
How do I cancel or change my order?
Contact us to submit your request here. We ship super fast at Zoe! Even if your order hasn't already left our warehouse, it may be loaded on one of our shipping trucks behind hundreds of other packages just a few minutes after you place the order. This works out great for the majority of orders as we know you'd like to receive your order as quickly as possible.
How do I check my return & refund status?
Has it been more than 20 days since you shipped your return to us? Return shipments can take up to 5 business days to arrive at our facility. We process returns within 5 business days of receipt, but refunds can take up to 10 days after receipt or 15 days after the shipment of your return to appear back on your card.
If it's been less than 20 days, we most likely are very close to having your return and respective refund processed.
If it's been more than 20 days and you've already checked the credit card used in the original purchase, please contact us here.
---
What products fall under your 1 year warranty

Your Zoe stroller is warranted to be free from manufacturing defects for a period of 1 year from the date of purchase under normal use and in compliance with the operating instructions. We've purposely designed our products so that they can grow both with your child and with your family. Because of this, our products are covered by a warranty starting from the day it was purchased.
Our travel cribs, high chairs, and Munchkin set are covered by a 1-year warranty starting from the day they were purchased.
Our warranty is not transferable and extends only to the original purchaser, doesn't extend to unauthorized purchasers of the product as a result of resale, and is only valid when supplied with proof of purchase, including order number, and order details. We will not ship replacements or repair parts outside of the United States.
For questions about our warranty please contact our customer service team here.
What product fall under your 6 month warranty?

Our accessories are covered by a 6-month warranty starting from the date of purchase. We will replace any accessories that qualify for our warranty; however, you will be responsible for covering the shipping costs.
Zoe will provide replacement parts and conduct repairs as determined by the company. We reserve the right to determine if warranty terms and conditions are met.
How do I file a claim under my warranty?

If you believe you are experiencing an issue that may be covered under the Zoe warranty, then we can help! Please start by filling out a warranty claim at the link here.
This brief form allows for proper documentation and helps us properly diagnose and troubleshoot the root cause of the issue you are experiencing. All replacement parts and entire stroller replacements are processed through this form. We typically respond within 2-3 business days and can ship** parts or replacements immediately once we find a solution!
**Please note: we cannot ship replacements or repair parts outside of the United States.
What is not covered by the warranty?
Our warranty is not transferable and extends only to the original purchaser, doesn't extend to unauthorized purchasers of the product as a result of resale, and is only valid when supplied with proof of purchase, including order number, and order details. We do not offer a warranty on any replacement strollers or parts. We will not ship replacements or repair parts outside of the United States.
Our warranty does not cover damage caused by:
Incorrect or inappropriate usage including but not limited to care, maintenance, storage and cleaning that does not follow the instructions in our manuals
Improper installation as detailed by our product guides
Normal wear + tear
Failure to follow instructions in our product guides
Abuse, carelessness, or neglect
Degradation caused by the sun, sweat, detergents, damp storage conditions, or frequent washings
Repairs or accessories from a 3rd party
Second owners or Other users
Damage caused by airline handling
Products purchased from an unauthorized retail
Casualties and carelessness
Personal Opinion dissatisfaction pertaining to functionality, features, or aesthetics
Please note: Our strollers are constructed with 600D and 900D fabrics that have been tested to hold up to 45 lbs per seat. A rip or tear upon arrival is considered a manufacturing defect and will be replaced immediately, but any ripping or tearing of the seat after use is considered to be normal wear and tear, or from improper use, and is not covered by the warranty.
**Please note: we cannot ship replacements or repair parts outside of the United States.
---
Does The Twin+ fit through standard doorways?
Yes, it sure does! The Twin+ is 29" wide. The width of most modern standard doorways ranges from 30-34".
I'm trying to decide between the Tour+ and the Traveler. What are the main differences?
They are both fantastic strollers for everyday use, on-the-go errand running, big city and urban usage, and also for traveling, especially airline travel.
The Traveler is designed to be the very best travel stroller on the market, while also your everyday stroller! It fits in virtually all airplane overhead bins as carry on luggage and is also fully loaded with features which make it a fantastic normal usage compact lightweight stroller. If you'll primarily use your Zoe stroller for traveling, you should probably choose The Traveler.
The Tour+ is designed to be the very best everyday, on the go, super lightweight, compact, and fully featured stroller on the market. It also has the unique capability of expanding to become a full tandem (front to back) stroller. It comes with a belly bar, parent cup holder, child snack cup holder, and child drink cup holder. It really is packed with just about every luxury and creature comfort that Zoe offers! If you'll primarily use your Zoe stroller for everyday usage with some occasional travel, and would like to potentially expand to a tandem stroller, you should probably choose The Tour+.
Are your strollers compatible with infant car seats?
Our Zoe Car Seat Adapter is only compatible with the highly rated Chicco KeyFit30 infant car seat and only compatible with The Tour+ as your base stroller. It cannot be used with The Tandem stroller.
Which Zoe strollers are infant capable?

While Zoe is not planning to release any new stroller models that will be infant capable (i.e. with 15" inch seat back). We are offering our existing the (15" seat back) Tour+ Infant Model for sale at a significant discount in our Outlet.
What are the age and height limits and recommendations for Zoe Strollers?

We do not have height maximums or minimums for our strollers. We do however have recommended weight maximum limits and recommended age minimum limits, both of which can be found on each product page under the Product Details section.
You'll notice that we provide detailed seat measurements including depth, width, and height of the seat itself as well as a measurement of seat to canopy height. To figure out if each Zoe stroller would be a good fit for your child, you'll want to measure your child from their waist to the top of their shoulders and compare this measurement to the setback height. Then measure your child from their waist to the top of their head and compare to the seat to canopy measurement.
It's totally ok if your child's shoulders will go above the seat back slightly. It's actually common in many strollers as children get older, but you probably won't want your child's head hitting the top off the canopy all the time. So thats measurement is probably most important when determining if your child is within the height capacity of each Zoe stroller.
As a parent, will a Zoe stroller fit my height?
We developed all of our strollers to have an ideal handlebar height. While there's no way to truly develop the perfect height, we tried to take into account all of the issues that shorter or taller people encounter with strollers.
So, first we recessed the axles on all of our strollers. One of the biggest issues for taller people is kick space. They kick the rear axle of the stroller all the time. By recessing the axle, we can put the handlebar at an optimal height for everyone while increasing kick space and alleviate the issues of axle kicking.
Next, handlebar height. Our test group ranged from under 5' all the way up to 6' 7". The very shortest and tallest of our testers knew that the handlebar height couldn't be perfect for them, but helped us develop certain angles, grip materials, and grip angles which would make our strollers truly comfortable for the outliers while still perfectly comfortable for people with average heights. Based on feedback from all three groups (short, average, and tall) of customers, we feel we have achieved this awesome goal in our handlebar design without sacrificing the added costs and weight of an adjustable handle.
How do I fold and unfold the Twin+ Double Stroller?
Reach under the two fabric flaps in the bottom of the seat that has a LOCK icon them. Place each hand into one of the straps beneath the fabric flaps.;
Pull up in a jerking motion to unlock the locking mechanisms and initiate the fold.;
If needed when new, squeeze the stroller together so the latch on the side of the stroller can connect with the pin also on the same side of the stroller and automatically lock into place. As you fold your stroller a few times, the fabric will begin to break-in and the stroller will begin to automatically lock.;
To unfold your stroller, simply pull outward on the end of the locking clip and then upwards and outwards on your handlebar until you hear an audible click.
Ensure your XL2 is fully unfolded and locked into the unfolded position before using.
My ZOE Tour+ or Twin+ gets stuck when folding, and/or one seat is higher than the other. What should I do?
To summarize, here are two solutions: Slightly recline each seat before folding until your fabric breaks-in. Fully incline the seats, fold the stroller, and leave in the position when possible to speed up the breaking of your fabric.
We use very high-end fabrics on our strollers. They are very comfortable and non-rigid, but just like other high-end materials, may take just a little bit of usage to fully break in. One of the improved features of the new Twin is the deeper recline, but we also improved the incline position by replacing the actual recline mechanism behind the seat.
The new incline position stretches the fabric to its limit when brand-new and when combined with the new recline mechanisms which are much stronger, the stroller seats are held very tightly in the fully inclined position which is great! The only downside of this is that the fold can feel just a little bit more rigid at first when the seats are fully inclined. This is NOT a big issue and not a defect in any way, it's actually purposeful.
If your stroller is very slightly reclined to fully reclined, you'll notice that it folds SUPER easy. So one solution at first is to barely recline your seats before folding until the fabric breaks-in. As you fold your stroller a few times, you will notice that the issue disappears and this is not needed. Sometimes, there's no issue, to begin with, but it's just part of us having a super compact, fold in addition to very high-end fabrics.
One other way to break the fabric in quicker is fully inclining both seats and fold your stroller until it locks. Leave it in this position as much as possible at first which will speed up the process of the fabric breaking in and stretching a little bit.
As mentioned, this is rarely even needed. We've shipped tens of thousands of strollers and to date have less than 10 customers asking about this, but we wanted to document the instructions in case there are a few other customers that haven't reached out, but were wondering about the topic!
Does Zoe use Flame Retardants in Our Products?
First, our strollers are made with naturally flame resistant materials. So there is no need for additives and chemical flame retardants. Also, we test all of our products to the most stringent safety standards in our industry, the JPMA Certification and ASTM Standards. You can read more details online, but the JPMA Standard and Certification requirements test against toxic and harmful chemicals.
How do I clean my stroller?
We use super high-end 600D fabric on our strollers here at Zoe! This has many benefits. Our fabrics are the perfect blend of durability and comfort. They hold up VERY well yet are soft to the touch. We use no chemical flame retardants and adhere to all JPMA and ASTM safety standards, exceeding them in many cases! Due to the high-end nature of our fabrics, they are extremely easy to clean and shed most stains and spills. While our strollers are not machine washable, simply washing them out with soap and water and placing them outdoors to air dry will clean up all spills and messes that we have encountered. the JPMA Standard and Certification requirements test against toxic and harmful chemicals.