See it in action
The ultimate lightweight, compact travel stroller for adventures with your little one! Made of durable high-grade aluminum yet weighing only 11 pounds, this well-built stroller features the easiest one-hand fold, fits in a backpack, and can be stored in nearly every overhead bin on airplanes. It can even be carried as a backpack itself.
Add to Babylist Registry >

Free Glass of Wine (ok, not quite)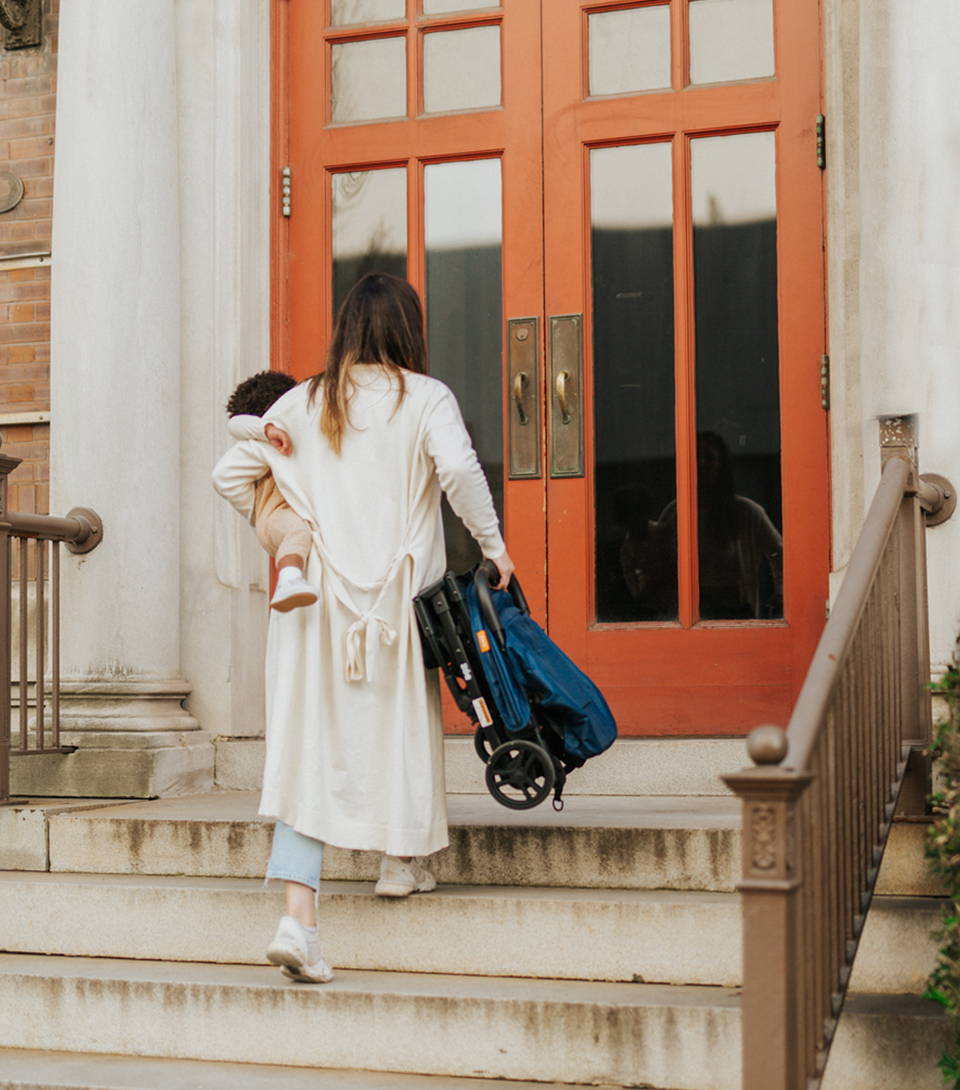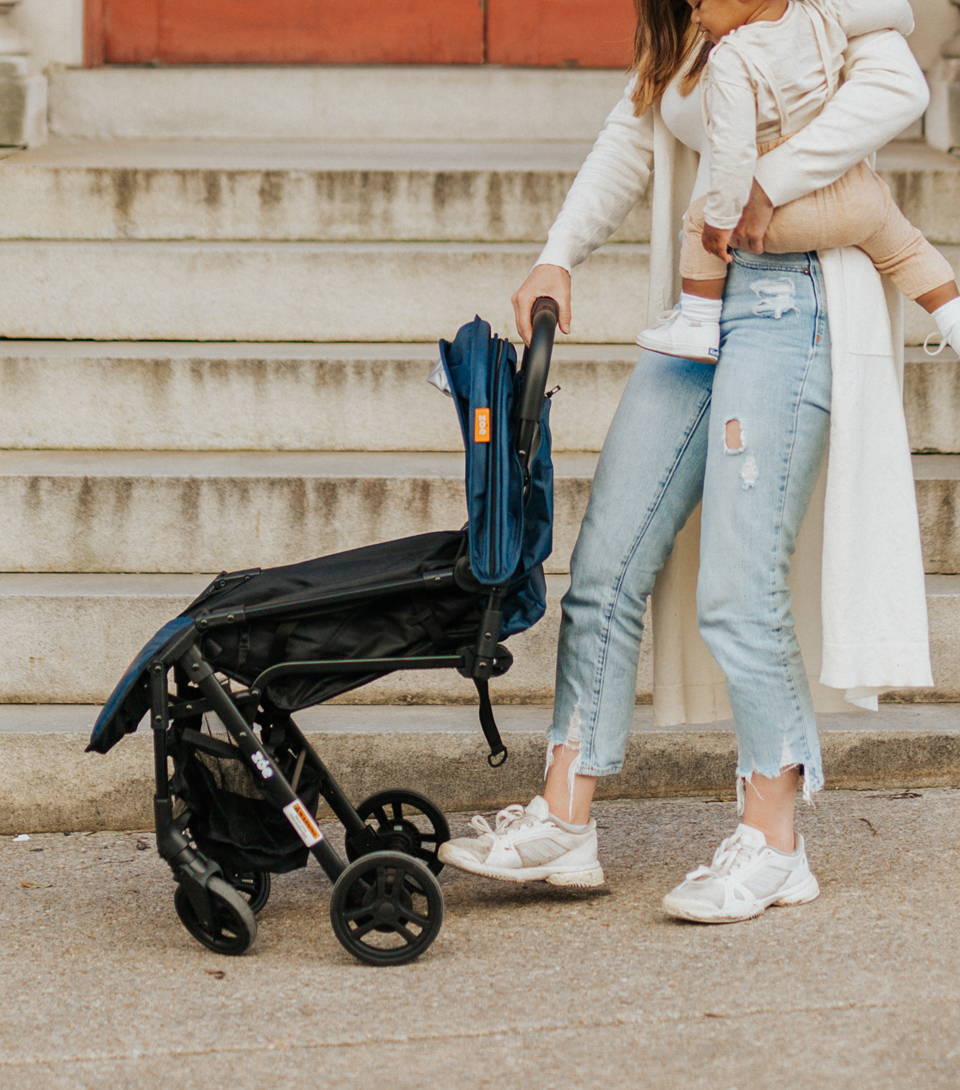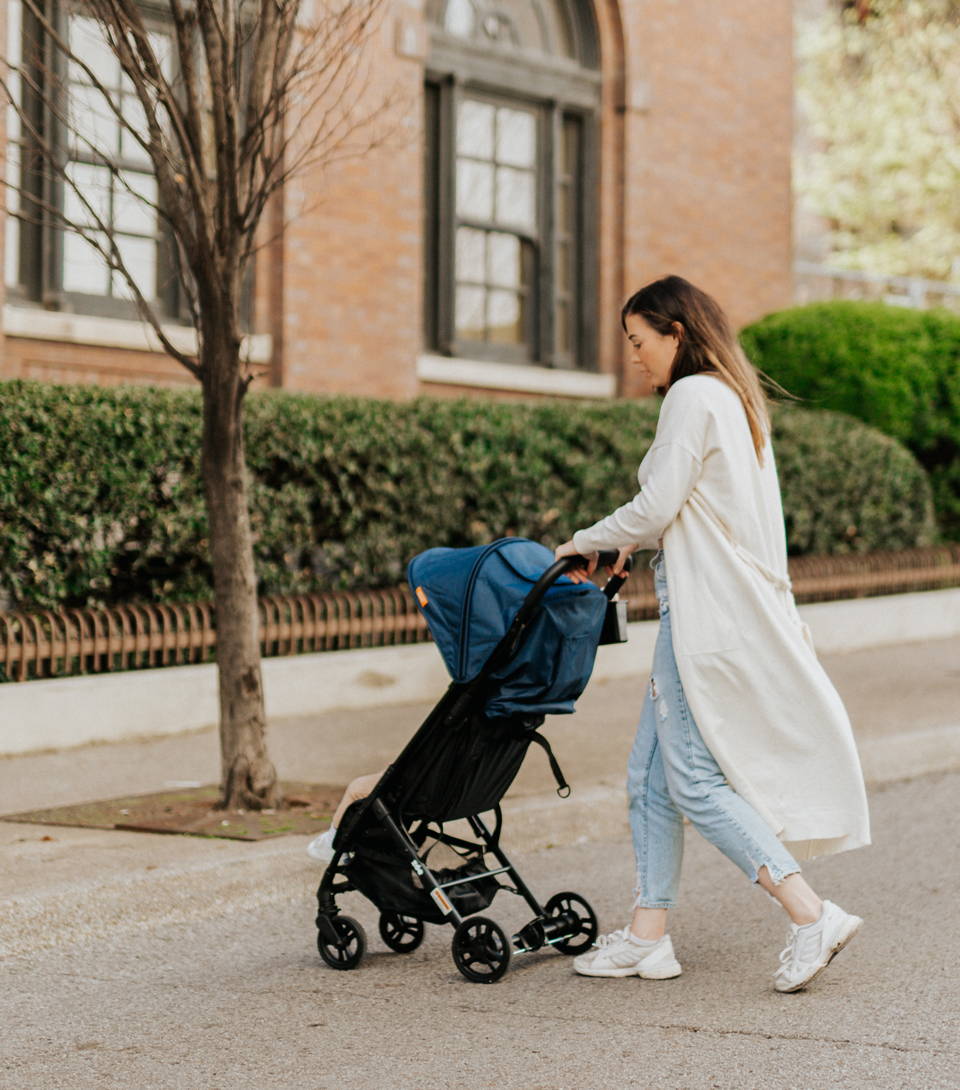 Meet The Traveler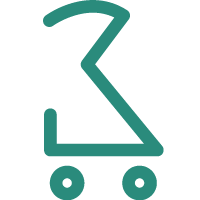 TRAVEL READY
The lightest, most compact travel stroller weighing in at only 11 lbs.
PACKS EASILY
Features a one hand compact fold and fits nicely in a car trunk and most overhead bins.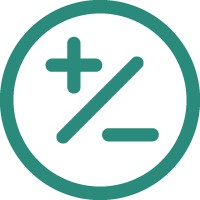 ADVENTURE BUDDY
Durable frame and wheels made for the family on the go.

Absolutely excellent! We took it to few different countries and it served us well. It is so light! Can pick it up with my toddler in it and take it up the stairs with no problem. Oh and how EASY it folds with one hand in one second!
Natalia A
This stroller is everything we hoped it would be, extremely light but durable and it easily collapses to fit in a car and an airplane overhead storage bin. Thank you Zoe!
George S.
We live in a city with narrow and old/torn up/rocky sidewalks, the stroller easily traverses bumpy sidewalks and gravel, and does great even with one hand! We love how easy it is to open and close and how compact it folds up.
Adam T.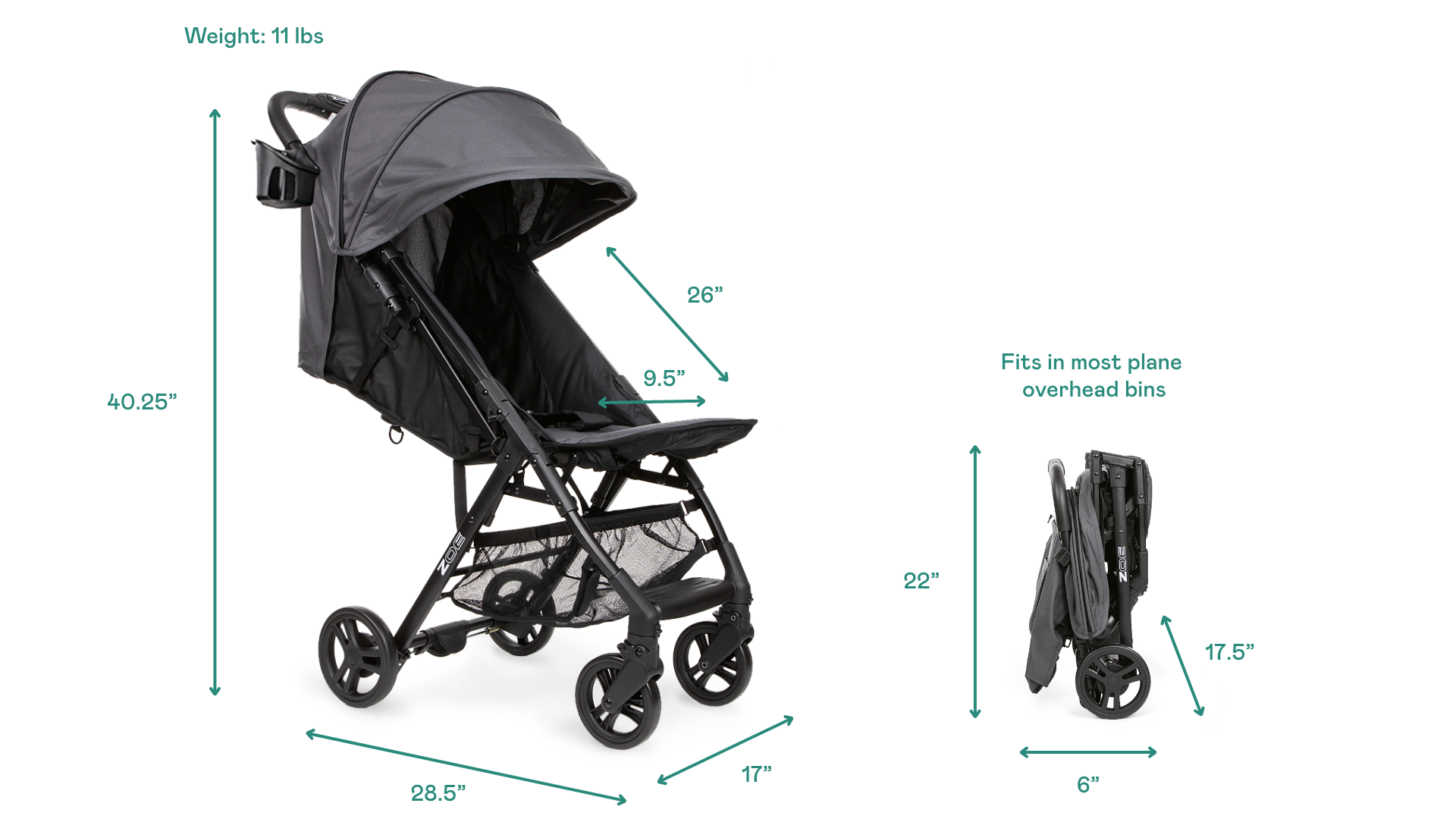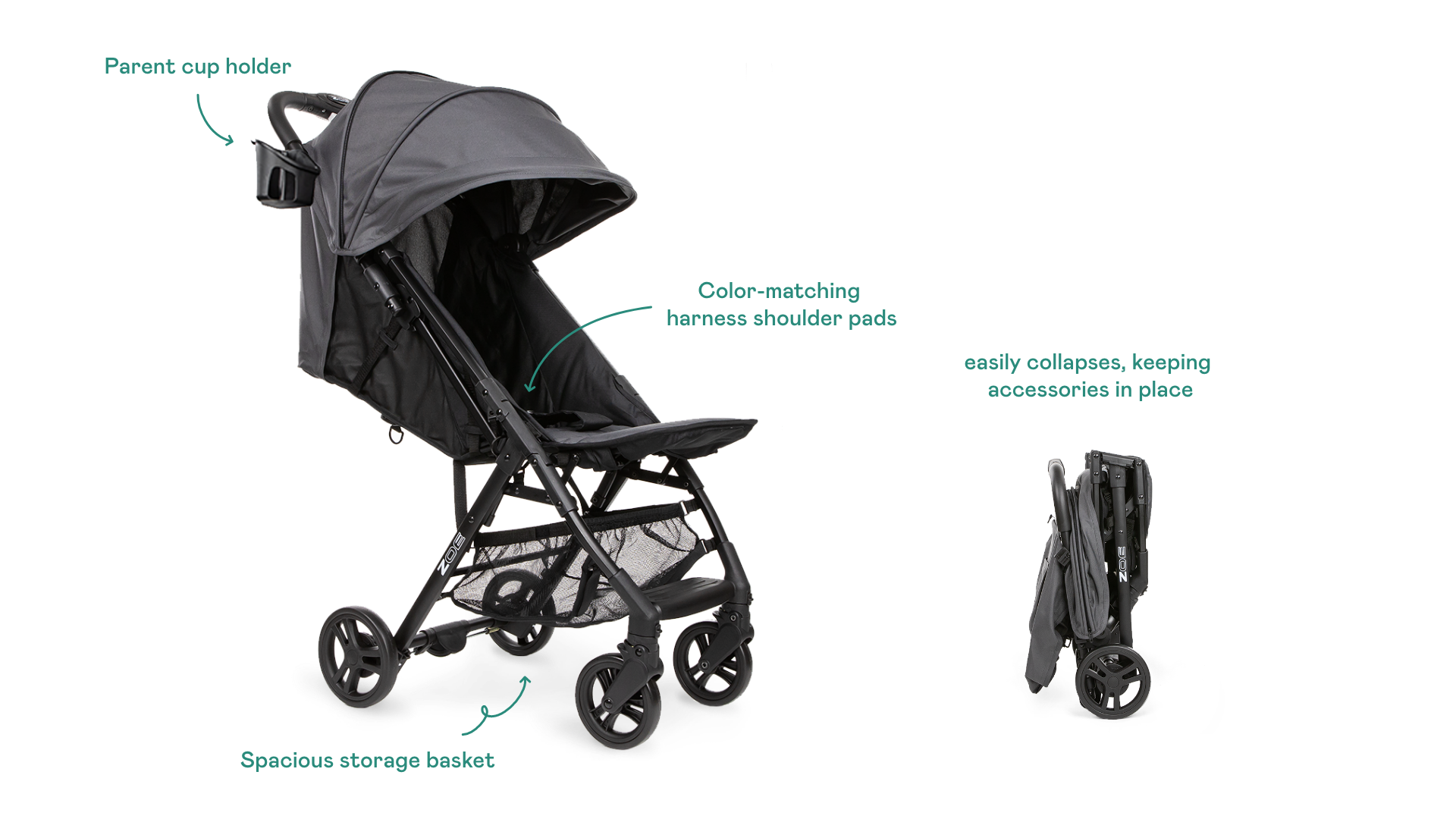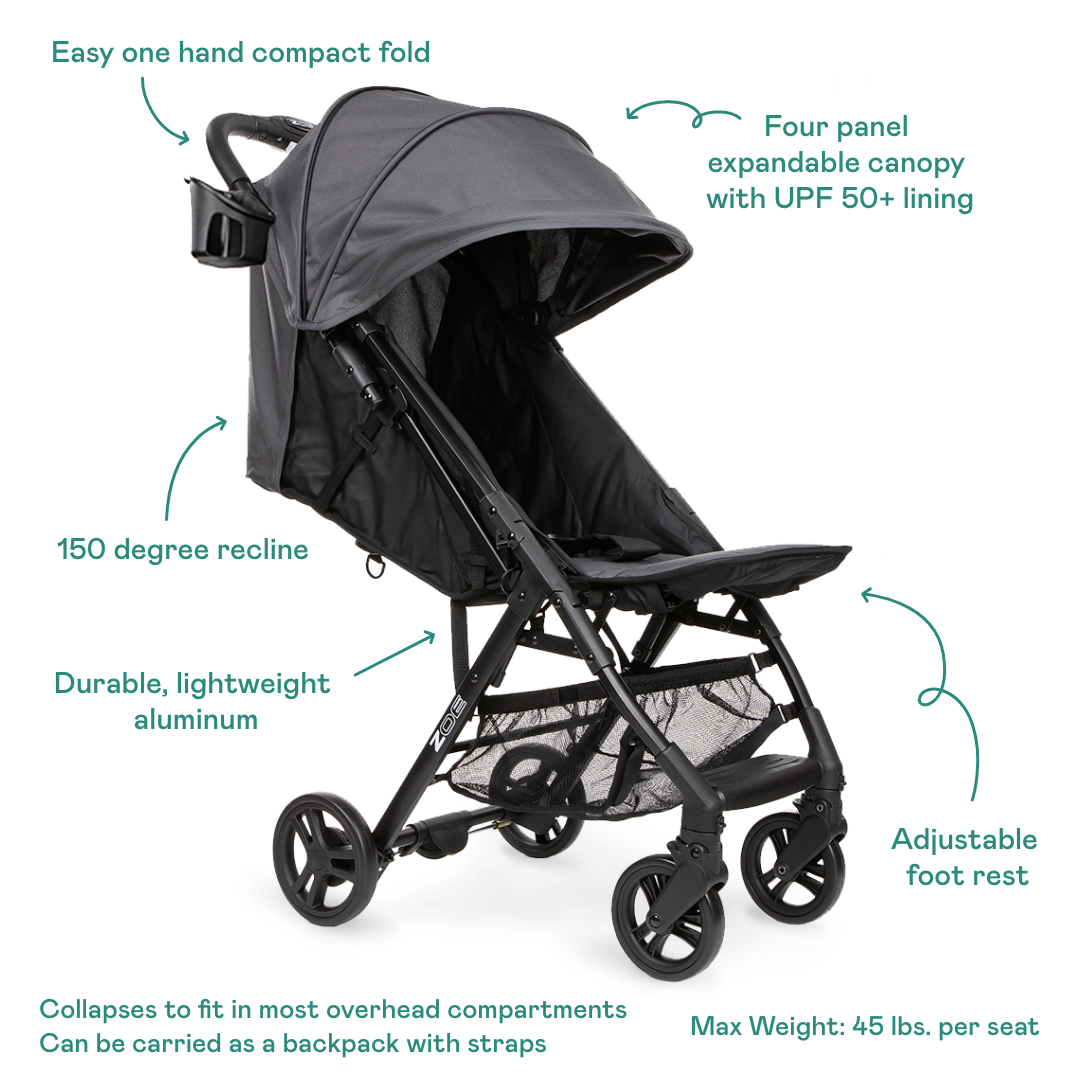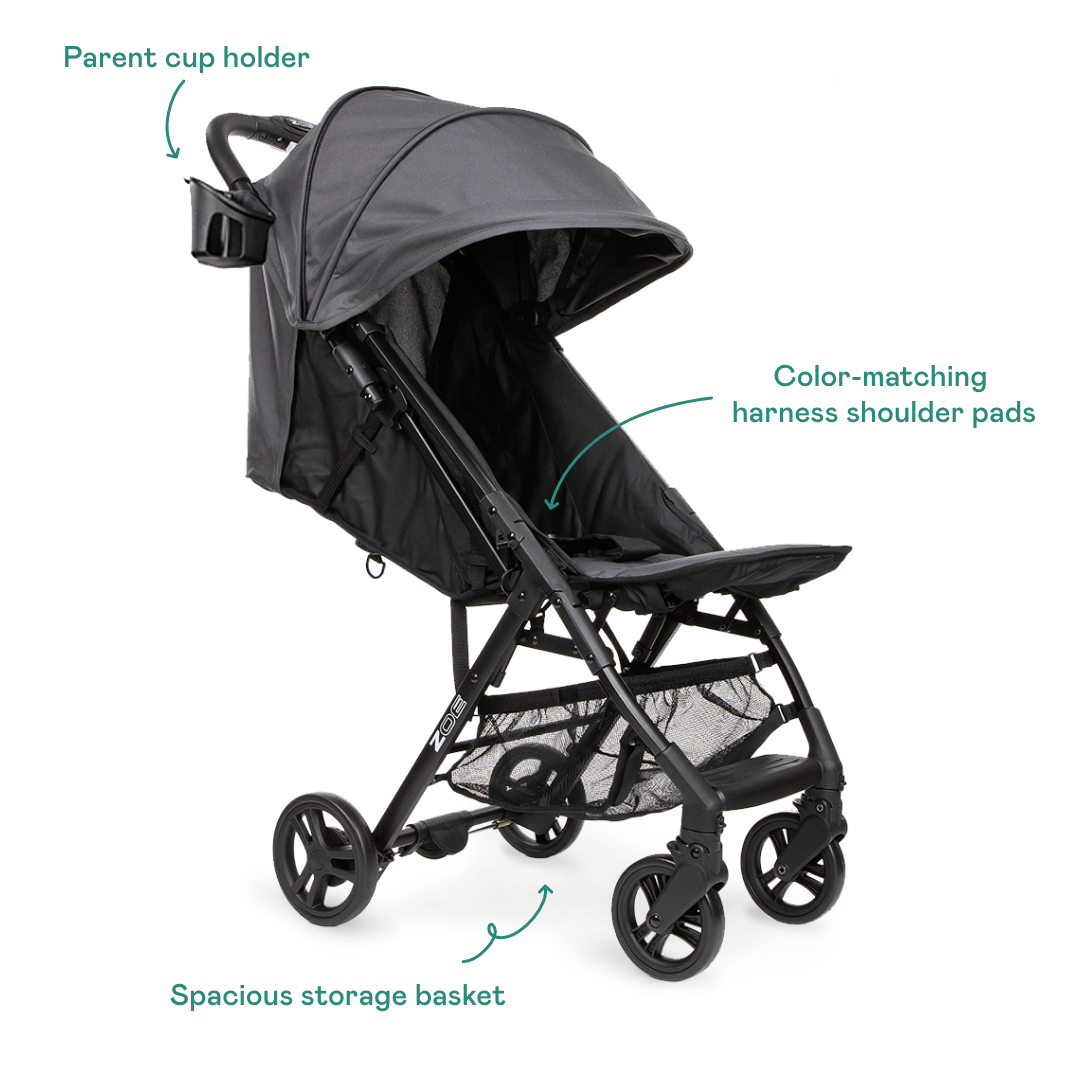 You Might Also Be Interested In
Check out our other options to meet your needs.
Can the Traveler fit in an overhead compartment bin?
Yes, perfect for traveling and will fit in MOST airline overhead compartments, but check with your airline carrier first.
What are the age and weight recommendations for this stroller?
The Traveler is recommended for children 3 months and up, with a maximum child weight of 45 lbs.
What is the return policy?
How can I see the Traveler in person since it's not offered in stores?
Since we are only online, we've created a simple way to try out our products. FREE 30 day return period. More questions? Read more about our return policy.
Specs

Disney Approved Stroller

Yes

Net Weight

11

Carrying Capacity

Tested to 45 lbs per seat

Open Dimensions

40.25" (height) x 17" (width) x 28.5" (depth)

Closed Dimensions

22" (height) x 17.5" (width) x 6" (depth)

Recline

150 Degrees

Reclinable Foot Rest

Yes

Age Recommendation

3+ Months

Accepts Infant Car

No

Seat Dimensions

11.75" (width) x 9.5" (depth)

Seat Back Height

26" (bottom of seat to canopy) and 16.5" (back of seat)

Rear Wheel Diameter

6 1/4"  x  1 1/4"

Front Wheel Diameter

5 3/8"  x  1 1/8"

Handlebar Height

40.25" w/ Recessed Rear Axle

Box Dimensions

7" x 18" x 22"

Box Weight

12 lbs